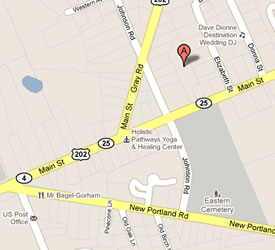 The information provided at this site is not, nor is it intended to be, legal advice. This web site has been prepared and made available for general information and marketing purposes in accordance with the Maine Rules of Professional Conduct, particularly Rules 7.1, 7.2, 7.2-A, and 7.4. Information provided on this web site does not create an attorney-client relationship between Maine Land Law LLC, PA, Sarah A. McDaniel and any reader of the web site. You should consult an attorney for individual advice regarding your particular situation.
In accordance with I.R.S. Circular 230 we advise you that any information or links provided in this website that may appear to be tax advice is not intended or written to be used, and cannot be used by any reviewer for the avoidance of penalties under federal tax laws.
Sarah A. McDaniel
P.O. Box 125
230 Main Street, Suite 2
Gorham, Maine 04038
Directions to the Office
From points north and Portland:
From the Maine Turnpike, take either Exit 47 or Exit 48 and get onto Route 25 West; Follow Route 25 West for approximately 5 miles into Gorham; 230 MAIN ST is on the RIGHT, just past the Gorham Police Department.
From points south:
From the Maine Turnpike, take Exit 42 and at the stoplight turn left onto Payne Road; At the second stoplight, turn left onto Route 114 West; Follow Route 114 for approximately 7 miles into Gorham; Turn right onto Route 25 East at the stoplight in the center of town; 230 MAIN ST is .6 miles on the LEFT, just past JOHNSON RD.